Mobile Carpets and Flooring
We come to you – Over 20 years experience – Islandwide service
Contact us
Mobile Isle of wight carpets and flooring
Quality Matters
How can we help you?
What sets us apart from other carpet retailers is that we offer a completely mobile service, we bring the whole shop to you at home. We are able to give you expert advice in your own home and can also provide an accurate on the spot estimate for different types of flooring.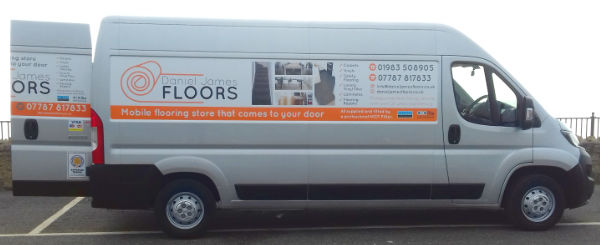 Daniel has just completed the stairs, landing and front bedroom. And it is simply brilliant and workmanship to the highest standard.
– JAMES MILLER, PO36 8NX
This is the 2nd time we have had Daniel into our residential home to fit some brand new flooring, the professionalism and quality of Daniels work is next to none. We would recommend Daniel James to anyone!
– SAM NEWNHAM, RYDE
Dan has fitted several carpets for us which are always well fitted & good quality. He always very professional, on time & helpful.
– LINDA & STEPHEN HAMMANT, ISLE OF WIGHT
Daniel fitted lino to our kitchen diner and then came back to fit matching flooring to our utility room. It looks great and beautifully fitted, would definitely recommend Daniel and we'll also be getting him back in the future to carpet the remaining rooms in our property. Top job!
– WILL GORRINGE, PO305TW
Excellent service and simply stunning. Great customer care and workmanship to the highest standard. Forget the rest and fit the best.
– JAMES MILLER, LAKE ISLE OF WIGHT
I felt I had to leave a review about Daniel. OK this is the 3rd property he has done for us but each time with the same care and skill. The difference with Daniel is that if he finds a problem (and there are lots fitting carpets) he solves it without a drama or cost. He has shown himself to be flexible on timing, fitting in with our requirements each time. Daniel arrives in a smart van, with a cheery attitude and that is just what you want. A brilliant carpet fitter who I would highly recommend.
– RICHARD HAVENHAND, ISLE OF WIGHT
Daniel has just completed some carpet work for us and I was impressed by his skills, workmanship and knowledge. The job entailed some tricky carpet joins and the final result was far better than I had hoped for. Daniel provides a very friendly yet professional service and I would certainly recommend him.
– PETER MACIW, ISLE OF WIGHT
Daniel has just fitted new flooring in our bathroom. Previously he has fitted vinyl flooring in our kitchen and conservatory, and carpet in our hallway and lounge/diner. His work is excellent, he leaves everything clean and tidy, and he is a very pleasant and helpful young man.
– ROBIN AND PAM MOORE, ISLE OF WIGHT
Dan is a great carpet fitter, knowledgeable, smart, and has all of the skills to solve any problem. He has just done all of the flooring at an 1800s cottage for us, with all the floor levels and problems to solve. The result is brilliant an dshows that if can tackle this he can tackle anything. Highly recommended
– RICHARD HAVENHAND, ISLE OF WIGHT
Some of the brands we supply